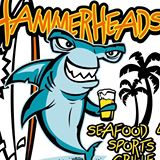 Our old friend Bob Graves, who helped get the Fan Club started back in 1990, has a new restaurant; Hammerhead's Seafood & Sports Grille. Bob has offered to host us this year. Bob was the founder of Barnacles where we watched the Steelers for 20 years!! He was always a great host and knows how to run a sports bar! The menu is excellent and the wings are the best in Atlanta.
As you know, the Falcons actually have a decent team, as opposed to the many, many years of average-to-bad teams. For this reason, we will need to compromise on days when the Steelers and Falcons play at the same time. The Falcons will get the bar side of the building and the Steelers will get the dining room side. I suggest you get there early on those days to make sure we stake a claim to seats. Thankfully, there are only 5 games in conflict: Week 1 (Sept 8), Week 8 (Oct 27), Week 10 (Nov 10), Week 11 (Nov 17), Week 17 (Dec 29).
Hammerhead's is located at 415 Peachtree Industrial Blvd, Suwanee, GA 30024. It is at the intersection of Peachtree Industrial and Suwanee Dam Road. It's an easy to get to location with plenty of room for Steelers Fans!
https://www.facebook.com/HammerheadsSeafoodSports