Steeler Nation Atlanta,
If you know of (or have any of your own) any kids that are interested in playing football, make sure you register for Jon Dwyer's football camp.  Go Steelers!
 Former Kell High School Football Standout and GA Tech star running back, Jon Dwyer of the Pittsburgh Steelers, will host his annual youth football camp at his alma mater, Kell High School in Marietta, May 31st – June 1st . 
The camp is open to youth, ages 5-116.  Participating campers will enjoy two  days of activities, fundamental drills, and positive reinforcement from some of the country's top NFL athletes, Georgia Tech players and area high school coaches.  The camp will provide drinks, lunch and camp shirts.
Proceeds from the camp will benefit The Kell High School Football Program and
The Jonathan Dwyer ADD Neuro Lab.
Campers can register online:
http://jondwyeryouthcamp.eventbrite.com/
Friday, May 31st  8:30AM – 4:00PM
Saturday, June 1st  10AM – 2:00PM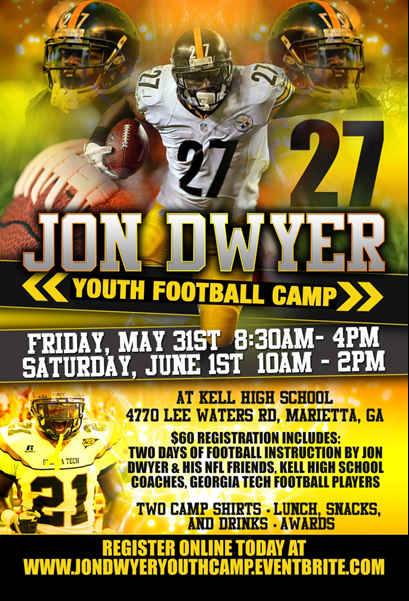 2 responses to "Steelers Jon Dwyer Youth Football Camp in Marietta, GA!"